Why An On-Site Lab Is A Must
Patients share the same dream - having a healthy beautiful smile to be proud of. Delivering on that dream requires the participation of the entire dental practice team; each playing their individual roles, all equally critical to the dream's fulfillment. After all, teamwork makes the dream work, as they say.
One of those teammates is the lab technician, whose job is to create. But this is not that improvised, spontaneous type of creation. Though an art form in itself, immense precision is also required for each unique denture or implant. A meeting of the right brain's craftiness with the left brain's attention to detail. That makes a phenomenal lab technician, yet does not guarantee phenomenal results.
Yes, creating durable dentures and implants with an accurate, comfortable fit does call for a skilled lab technician, but there are other factors that come into play that are simply out of the lab technician's hands. And more often than not, those resources aren't even within walking distance. Most dental labs fulfill orders based strictly on phone calls and scripts from dentists and dental staff that not only have no close relation to said lab, but are often located miles away from the lab itself.
This nonsensical approach easily generates miscommunication, resulting in ill-fitting inaccurate products and dissatisfied patients. These are people's teeth, intricate, detailed and small; the smallest visible part of the human body. With that in mind, the needs and adjustments for each unique patient is not something that can be perfected via phone calls and emails. It takes a hands-on approach and an on-site lab
Jase Hackney, DDS says that his on-site lab, at his affiliated Affordable Dentures & Implants (AD&I) Tampa, Fl practice, makes the products he delivers to his patients that much better. So much so, that he wouldn't perform denture work without having a lab within his practice.
"It's a beautiful thing," Dr. Hackney says. "If a patient has particular concerns, it's hard to convey that through writing on a lab prescription. Instead, my lab manager and I can look at everything together. Then boom, we're ready to process."
Every single one of Affordable Dentures & Implants' 260-plus locations is outfitted with an on-site lab - one of many reasons for AD&I's uniqueness. The on-site lab is more than just a dedicated space inside a practice; its existence impacts the people, the processes and the dental prostheses inside each practice.
DEDICATED TEAM & CULTURE CREATION
An on-site lab provides lab technicians a home and a team. And when lab technicians are part of the team, a culture is developed, operations are more fluid and phenomenal results follow. Cynthia Whittington, an AD&I Manager of Laboratory Excellence, echoes this.
"It's all about the team...it takes the lab technician and dentist working on cases together, hand in hand, in order to produce an excellent prosthesis," Whittington states.
By having lab technicians on hand, all team members are able to develop a rapport, an understanding of one another and, in doing so, work more effectively as a cohesive unit.
Lab technicians, or any role for that matter within a practice are a crucial part of a larger team. The interactions, collaborations and learnings that occur all benefit both the individual and the team as a whole, not to mention the patient.
A recent article pointed to a study by Stanford University in which it was "found that even the mere perception of working collectively on a task can supercharge our performance…[prompting] higher engagement levels, lower fatigue levels and a higher success rate," (Forbes).
That's what happens at practices with an on-site lab. Due to the innate affiliation between colleagues, there is engagement, and thus, a built-in team all working toward the same shared goals
SKILLED & INVALUABLE WORKFORCE
Lab technicians value a team environment. In fact, a 2018 survey distributed to all AD&I lab technicians reported that of all the reasons they would refer a colleague to work for AD&I, Team Environment/Culture ranked second, only behind Career/Growth Opportunities.
The opportunities for growth, which AD&I is known for, is also the top reason that lab technicians join AD&I to begin with, and the number one reason that those previously in private practice made the jump, according to survey results. The inside lab promises access to colleagues; dentists, dental support staff and fellow lab technicians, whose experiences and knowledge are interchanged on an ongoing basis. With knowledge comes the opportunity for advancement.
In 2004, after Anthony Senegal had spent 10 years serving in the military, he sought a career with upward mobility, so he joined AD&I as a lab processor. In less than a year he advanced from processor to a full lab technician, and soon after, lab manager. By 2006 he had become a Regional Lab Manager and two years ago was promoted once again to his current position as Director of Laboratory Excellence.
Senegal recalls, "When I first became a lab manager I thought, 'How do I make my team better?'...I started cross training my lab technicians...so that they were competent in all responsibilities within the lab...so that when the lab gets bottle-necked in one area of the lab, training received would allow any technician to help in the area where cases were held up. This allowed everyone to maximize their ability with keeping cases flowing.
Lab technicians become competent in various lab responsibilities. Their accomplishments are recognized, evident by the 70% of AD&I lab technicians who have experienced a promotion within the company. AD&I's standards for continual learning enhance an employee's individual skills and value. For an AD&I doctor, having full trust and confidence in your team's abilities is vital to a practice's success. And when that happens, waxers move up to become processors and then full technicians, under the practice's lab manager.
"And with AD&I opening practices all over the country, there is an opportunity to manage your own lab," Senegal notes.
The on-site lab is mutually beneficial to both the practice staff and the patient
because of that precious thing that everyone struggles to find. Time.
HAPPY PATIENTS IN NO TIME
The on-site lab is mutually beneficial to both the practice staff and the patient because of that precious thing that everyone struggles to find. Time.
An on-site lab reduces the time it takes to create a denture and is responsible for a practice's ability "to provide same-day dentures," Senegal says.
Senegal explains, "Let's say you have a try-in case and, for some reason, the mid-line on that specific case is off…You can pull the lab manager in with the patient and show him/her and mark reference points in the wax-up right then and there."
The inclusion of the on-site lab stems from the need that was so apparent to AD&I founding dentists, Dr. George Edwards, Jr., and Dr. Donald Henson; same-day dentures to accommodate patients who have both time and financial constraints.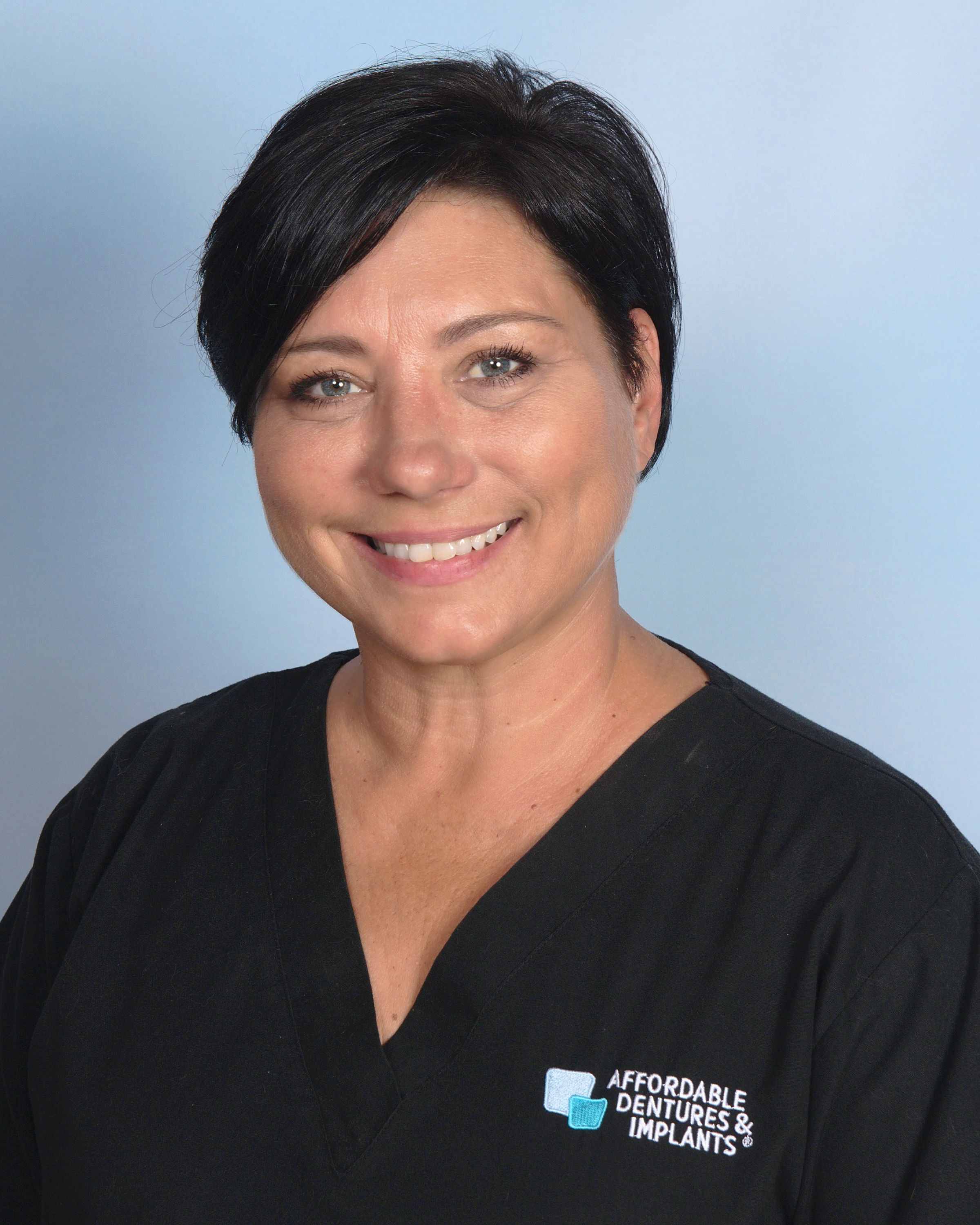 Cynthia Whittington agrees…
"The on-site lab makes for a shorter process to get the final product to the patient…the patient doesn't have to make additional appointments or pay additional fees."
This is only possible because of the on-site lab. "It cuts out a lot of time…and provides a great benefit to patients," Senegal says.
Whittington agrees. "The on-site lab makes for a shorter process to get the final product to the patient…the patient doesn't have to make additional appointments or pay additional fees."
In addition to the lower overall costs and shorter turn-around time, an on-site lab also gives patients the opportunity to meet the lab technicians and ask questions, increasing both their comfort and knowledge, as they see their dentures being created.
INCREASED VOLUME
And how does an on-site lab contribute to the number of dentures and implants produced in a practice? Whittington states definitively, "That's the key."
It's the reason that AD&I is the world leader in tooth replacement services for patients. To date AD&I has served over 7 million patients and donated millions of dollars in dental services to military veterans, homeless individuals, victims of domestic abuse and others who do not have access to high-quality dental care.
When it takes less time to create one denture, that leaves time for more dentures to be created. More patients treated and more lives changed results in an accomplished, sound and prosperous practice.
The prosthesis creation process is streamlined from the time of the initial consult all the way to delivery of the final product. Keeping the entire process in house, with all players on site and in sight, dentures and implants are created swiftly and smoothly.
Senegal credits the on-site lab with the impressive number of dentures the AD&I practices can create in a day. Working as a lab technician and manager at various AD&I affiliated practices, he himself has created thousands of dentures and implants, all with a fast turn-around, sometimes as much as 50 denture units in one day.
Dr. Albert's affiliated practice owner in WI, previously worked in a practice with an outside lab.
She says that with all the little tweaks that need to be made, now she can't imagine having to send out for a denture.
PRECISE DELIVERABLES
Not only does an on-site lab produce more, they produce well.
When precision is of the utmost importance, emailing an image with supplemental instructions in the hopes of perfection is nothing more than wishful thinking. Details get lost in translation and countless dentists, lab technicians and practice excellence staff agree with Whittington who says that, "pictures don't always do justice."
She continues that at AD&I, "It only takes walking a few steps to take care of a problem…here the [team] can look at a specific case together, and work out a solution…the technicians can actually see the product in the patient's mouth." This layout provides a real life accurate view, which leads to an accurate end result.
Dr. Allison Alberts, AD&I affiliated practice owner of Pleasant Prairie-Kenosha, WI, previously worked in private practice with an outside lab. She says that with all the little tweaks that need to be made, now she can't imagine having to send out for a denture.
"I don't like having to write out what I'm trying to say to then still have a product that is unacceptable. It's a waste of time, money and effort...the on-site lab makes for a more streamlined process, better communication and a better product," she says.
GRATIFICATION
And when the streamlined process wraps up, the product travels only a few steps to its final destination; the patient, where gratification is almost instant.
Gratification is not solely felt by the patient, but by the entire practice team. Senegal recalls the tradition of one AD&I practice owner with whom he worked.
"He always made it a point to bring out the technicians onto the floor and introduce them to the patient and say, 'He made your denture.' This lights the fire within you…to provide that and that quality for someone. That's an invaluable reward - you can't measure that."